Daily Parenting Solutions To Remember
How you see your child in your mind is a form of self-fulfilling prophecy.
When you envision your child as a problem, you relate with your child in a way that closes your heart and incites more conflict and difficulty in the relationship.
Envision your child as a winner, and feel confident in your child's ability to successfully overcome life's challenges.
Never lose faith in your child.
To be the best parent that you can be, seek out, contemplate and strive to incorporate positive education pertaining to child behavior and child development.
It's important to believe in your child, and it is equally important to believe in yourself, in your ability to lead a successful life. Your attitude is contagious and your child will pick it up.
Don't try to get your child to raise his level of performance by causing the child to feel insecure about himself. The less secure one feels, the lower one's level of performance.
Practice self-confidence. Self-confidence is an attitude that can become your healthy habit. It will protect you from anxious stress that would otherwise cause you to be too impatient with your child.
Don't merely WANT to be a truly great parent for your kids, I CHOOSE to be that. Determine to be that. Commit to being that. And persevere in your efforts to be and to your very best for your children.
Reject worry. Whatever you worry about gets worse. When you worry, you wear yourself out in aimless, stressful thought and painful emotionalism. Worry is a negative habit that you can gradually free yourself from, little by little.
Consistently envision the life that you want for your family and relentlessly discard any doubt that it can happen.
Remain committed to taking excellent care of yourself, based on the understanding that you cannot take the best care of your family when you are feeling run-down, burned out, burdened or overwhelmed.
Remember that your children are influenced by everything you say, think, feel and do. Based on that fact, remember to examine your own conduct to see how your behavior contributes to any problem behaviors your children display.
Commit to living each day in a rush-free way, based on the understanding that rush makes you too stressful, hyper and impatient to connect well with your child.
Observe your child closely to relate with her AS SHE IS rather than as she has been or how you presume her to be. The better you connect with your child's true self, the more harmonious will be your relationship.
Remember to work everyday on being more loving, kind and considerate of your child's feelings, even when you need to be firm.
Offer your child all of the help she needs to do her very best in all areas of life, being careful to NOT help TOO much, for that would make her more dependent, not more independent.
Regard parenting as a creative process, realizing that how you relate with your child contributes to the creation of who your child becomes.
Practice being alertly aware in the present moment during your daily interactions with your child, in order to adequately recognize and respond to the real needs that your child expresses.
Review any difficult experiences that you have with your child and consider how you might improve your handling of similar situations in the future.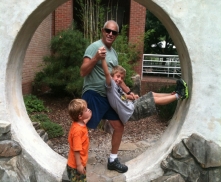 Solve your parenting problems at my next monthly parenting solutions seminar.
Set up a parenting solutions consultation either live or over the phone.
You can also bring me in to provide child behavior solutions for your school, place of worship, or conference. Click here to email for more information or call 404-297-4043