Resolutions 
For Happy Success
1.    I will watch my emotions when listening to, reading or viewing the news and the instant I come across anything that causes me to feel discouraged about my potential for happy success I will immediately turn it off.
2.    I will create clear goals of what I want to accomplish, how much money I want to make, and I will spend time daily visualizing myself achieving those goals.
3.    I will concentrate on building relationships now so that those relationships will eventually bear fruit in the future.
4.    I will not blame the current economic climate for my performance, but constantly concentrate on what I can do to achieve my goals.
5.    I will use my present situation as an opportunity to recognize and release myself from any attitudes or expectations that de-motivate me, so that I can emerge a more motivated, confident, unstoppable success.
6.    I will make the most of every moment of my time, rather than using a slow period as an excuse to become lax in my focus on achieving happy success.
7.    I will do what I can for what I want to accomplish and not tell myself that what I can do is not good enough.
8.    I will remain committed to maintaining healthy, happy, loving relationships at home, based on my understanding that a harmonious home-life supports my positive attitude, motivation and discipline at work.
9.    I will watch my speech very carefully, to avoid talking myself out of happy success and into a depressed or discouraged state.
10.    Based on my understanding of the fact that attitudes are contagious, I will spend as little time as possible with individuals who express a "poor me" perspective.
11.    I will hold all clients, prospects and people in general in the highest esteem, even in the privacy of my own mind, based on my understanding that negative feelings cannot be entirely hidden.
12.    I will practice feeling confident by letting go of negative expectations, based on my understanding that my confidence will inspire confidence in my prospects and clients.
13.    I will remember that how I handle downturns can prepare me to be a stronger, wiser, more successful individual when business turns up.
14.    I will not judge myself as a loser when my results don't match my hopes, understanding that I need to believe in myself despite the appearance of evidence to the contrary to create positive evidence that supports my positive belief.
15.    I will remain calm, functioning in a state of focused relaxation, based on my understanding that reacting with stress and strain brings out self-destructive, addictive patterns that would only undermine me.
16.    I will count on faith, not fear, to make it through what I am going through.
17.    I will master the art of being economical with what I have, which will enable me to make it into more.
18.    I will provide community service to those with greater needs than my own, which draws assistance to me from those with more means than my own.
19.    I will model for (my) children how to move through challenging times, because no one always wins and they will certainly face challenges of their own.
20.    I will permit myself to feel grateful for what I have, to appreciate my blessings, instead of punishing myself by focusing on lack.
21.    I will allow myself to feel grateful for my present challenges, which give me the opportunity to grow into my greater potential to handle them.
22.    I will eat well, exercise sufficiently, get enough rest because when I feel my best, I do my best, and that produces the best results.
23.    I will maintain neat, clean orderly environments because a cluttered space generates frustration and opposition.
24.    I will remain extremely vigilant of how I THINK about my situation, based on my understanding that I bring about what I think about.
25.    I will review these resolutions for happy success regularly, post them where I can see them, and remain committed to putting them into practice everyday.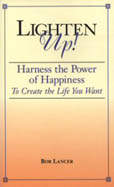 For the most powerful keys to happy success see Bob Lancer's profoundly liberating wisdom book: Lighten Up: How to harness the power of happiness to create the life you want. 
Click on the image of the title for more information.