Inevitable Success Secrets
Inevitable success secrets do exist. There is a way to follow that guarantees your success. It won't save you from occaisional losses, disappointments and set-backs. It won't save you from challenges that you find overwhelmingly difficult or dangerous. But it will see see you through those inevitable bouts with darkness, and help you turn them into strength that takes you into higher levels of happy success.
The first secret is that persistently taking your best actions aimed at advancing toward your goal takes you to your goal. What prevents people from applying inevitable success wisdom as simple as this one ? Sometimes, it's just plain ignorance; not knowing that persistent action aimed at achieving a goal works. But often, it is not knowing how to plan an action correctly.
Making an action-plan that you definitely can and will stick to is easy,once you understand how. An appropriate action-plan is a plan to take an action that is truly do-able for you. When you plan or intend to do something that is too hard for you to do, you end up stalling, not furthering your progress and run the risk of discouraging yourself to the point that you give up.
Secrets for inevitable success like this one could not be more wonderful. Just take action that is not too hard for you to take, action that is aimed at achieving your goal. Each time you take action for your goal your motivation, confidence and concentration levels build, making you more focused, determined and unstoppable as you advance into success.
What often blocks individuals from applying success secrets like this one is the mindset that regards what they actually can do as too meager to lead to success. This mindset paralyzes them .
Secrets For Inevitable Success Do Exist,
But They Will Do You No Good Unless You Employ Them.
One of the most liberating secrets for success is this one: To achieve spectacular goals you have to trust that your best really is good enough. This trust constitutes belief in yourself. Without that, you do little, rendered powerless by doubt .
Here, then, are 6 Inevitable Success Secrets
1. Decide on your goal.
2. Decide upon a do-able action that contributes to your goal.
3. Follow thgrough on that action. If you don't do it, revise your action to make it easier. If you do it, repeat these steps until you achieve your outcome goal.
And avoid these 3 common mistakes that undermines performance and achievement:
1. Doubting your best is enough
2. Deciding to take actions that are actually beyond your power.
3. Giving up when you fail to follow through or when your efforts lead to disappointment rather than to success.
Every action-step you take aimed at achieving your goal makes it easier to take another action step, and to persist until you succeed. Applying the 6 simple but powerful inevitable success secrets presented in this brief article will take you into the realization of your greatest dreams coming true.
For more inevitable success secrets see www.infinitesuccesswisdom.com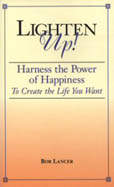 Discover how to liberate yourself from self-defeating mindsets and draining emotional reactions. Learn how to harness the power of happiness to create the life you want. It's all in Bob Lancer's book of inevitable success secrets: Lighten Up!.